How to email a receipt
Some clients will want their invoices/receipts emailed to them.  This is very easy in Client Diary.
Process your Point of Sale (POS) transaction like normal.  Full instructions on this are here: How to charge a client for a transaction.
When you get to the point where you press the END SALE / PRINT RECEIPT Button, choose Email Receipt.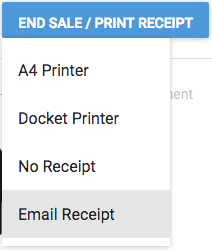 The next option that appears either already has the client's email address (if it exists in your records) or it will be blank and ready for you to enter the email address.
Pressing Send will simply email the receipt to the address above.  Pressing Send & Save Address will send the email to the address above and save that address as the client's new email address.
The client will have a PDF email sent for their records.