Client Diary allows you to fully customise your appointment reminder messages. This way you can present the exact message to suit your business without needing to rely on preset messages.
Go to the My Account menu
Choose the Marketing tab
Select Appointment Reminders
Adjust the message from Preset SMS to Custom SMS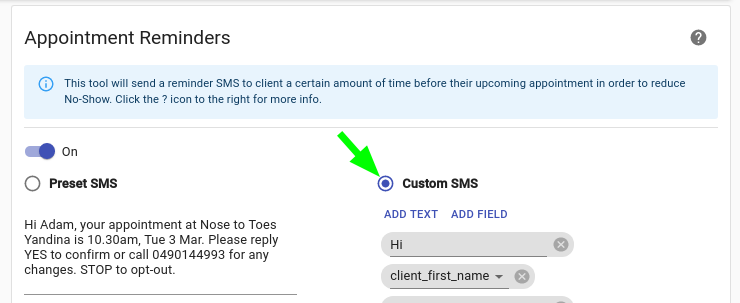 How To Create Your Custom Sms Message
Create or edit the custom SMS using text and drop down fields in the SMS like so in the pic below.
Add Text- Is a field where you can type your own words on how you like your message to read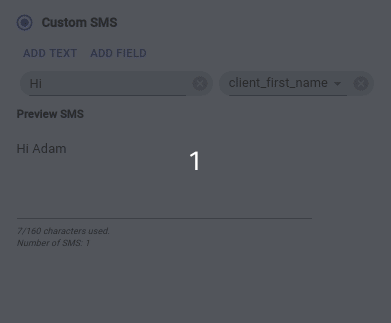 Add Field- Is a field that will add the info automatic into your sms from info that has been added to Client Diary for example if you add the business name field and have added you business name to Client Diary then it will automatic add your business name to the sms.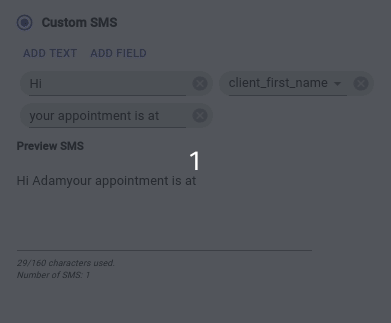 Preview Sms- This is a preview of what the sms will look like when it is sent to your Clients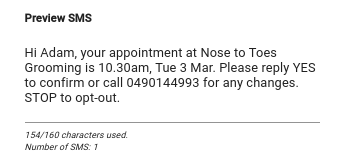 Don't forget to click on Save to apply changes.
IMPORTANT: If you are editing an existing message, all future messages that were queued will still have the old message. To remove the old messages and ensure the new message is in place please follow the below instructions:
Turn Off the SMS reminders toggle
Press the Save button. (When you do this, it removes all future messages. It's important to wait a minute or two before moving to the next step, to ensure all future messages are fully removed)
After waiting a minute or two from the step above, Turn On the reminders toggle
Then press the save button.
After this step, all your future appointments will have the new message.
Attention: Before sending any marketing be sure to merge any duplicate clients you may have in the database. This stops clients from receiving messages twice by accident. Documentation on this is here.