Establish
1 to 2
calendar staff
Operators who require everything
---
Calendar
Client Management
Point of Sale
Marketing
Stock Control
Staff Management
Messaging
Forms
Reports, Data & Analytics
Business Administration
Classes & Groups
Online Vouchers
Online Booking
Online Payments / Deposits
Stripe Integration
Mailchimp Integration
Xero Integration
Telegram Integration
Zapier Integration
All Prices are in AUD & include GST
Expand
3 to 5
calendar staff
A growing team without restrictions
---
Calendar
Client Management
Point of Sale
Marketing
Stock Control
Staff Management
Messaging
Forms
Reports, Data & Analytics
Business Administration
Classes & Groups
Online Vouchers
Online Booking
Online Payments / Deposits
Stripe Integration
Mailchimp Integration
Xero Integration
Telegram Integration
Zapier Integration
All Prices are in AUD & include GST
Extend
unlimited calendar staff
For teams with 6 or more users
---
Calendar
Client Management
Point of Sale
Marketing
Stock Control
Staff Management
Messaging
Forms
Reports, Data & Analytics
Business Administration
Classes & Groups
Online Vouchers
Online Booking
Online Payments / Deposits
Stripe Integration
Mailchimp Integration
Xero Integration
Telegram Integration
Zapier Integration
All Prices are in AUD & include GST
Hold on. Everyone has the same features!
Nicely spotted! That's right. Client Diary is super simple. There are no restrictions at all and you don't have to pay more to get access to certain tools. It doesn't matter if you have a team of 2 or a team of 200. Client Diary gives you the whole system.
There's no need to pay hundreds of dollars a month for your software anymore, or pay extra to unlock features or support. At a simple low price and you have all you need.
Common Questions:
Q: Can I bring my data over from another system?
A: Definitely. We commonly have people come from other systems and can import it for you at no cost.
Q: Is there support?
A: Sure is and it's free. You can reach out to us, or email, watch videos or read our documentation. Whichever you prefer.
Q: Do I have to sign a contract?
A: No contracts exist here. You simply sign up and you're away. If you don't love Client Diary you're free to leave straight away.
Q: What about my data? My last company won't give it to me or only give me basic client info.
A: ALL your data is your data. If you need it just ask and we'll promptly provide it to you.
Q: What if I have more than one business or location?
A: If you have multiple sites/locations, then each location is charged at its own rate.
Q: What about SMS costs?
A: SMS are simply charged at 10c per message.  You simply purchase as many as you need.  They don't expire, they don't run out at the end of the month. Simply top up as required.  It couldn't be easier.  The SMS are two way, clients can reply and we don't charge anything for clients to reply.
Q: Do you skim a percent of my transactions?
A: Absolutely not. There is just the simple price listed above. We do not take a cut of every sale you make.
Q: This is too good to be true. What's the catch?
A: No tricks or anything here. It's as simple as what's on this page. A simple, low price without locking any features away, rather than the old high prices and 'pay more for this feature' that many companies charge.
Just to be super clear, you get:
All Features Included
No Restrictions
No Complicated "Feature Plans"
No taking a percentage of your income
No "Per Transaction" Fees
No "New Client" Fees
No "Customer Service" Fees
No Lock In Contracts
Full Control Over Your Data
Unlimited Support
Not bad huh! Have a quick read of what Fred has to say below:
This is the software everyone should be using. The fact that I was able to figure out most of the system when I first took it without needing a tutorial is testament to it being easy and functional to use.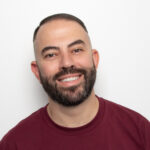 Get 4 weeks of Client Diary at no cost!
No credit cards required. No lock in contracts. Simply sign in and give it a go.