Client Diary keeps evolving. When we first started there was a simple Point of Sale, a basic calendar and some essential product, service and employee options.
As of writing Client Diary has become a full featured business productivity system with a wide range of powerful tools to help your business, setting the standard in price / performance.
To celebrate the 2021 release of Client Diary we've decided to highlight some of the latest improvements.
Dark Theme
The most obvious addition is quick switching between the new Light and Dark Themes. Flick a switch and have the interface change in real time. Dark themes are commonly enjoyed for their professional appearance and easing of eye strain. Give it a switch and see which you prefer.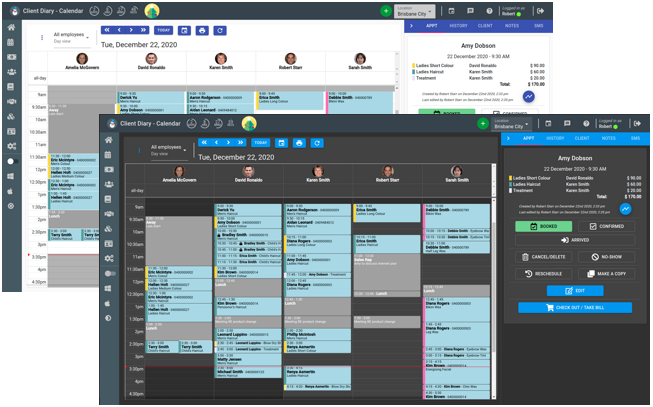 ---
Better UI / UX
UI / UX means User Interface / User Experience. Selectable options are now clearly defined. Grouped items are clear and readability of the system is drastically improved. Click about and enjoy the newly tweaked UI.
---
SMS quick reply
This little feature is worth its weight in gold. Quickly reply to an SMS by clicking in the alert and typing. View the client's details in a single click. Thank you to everyone that requested this. We've been testing the tool for some time and can't imagine life without it.
---
New Point of Sale
Brace yourself! The Point of Sale has changed. Dramatically. We've been performing usability studies for months and the new POS is improved in every aspect. Less cramped, minimalist, modern and readable. You'll be checking out clients faster than ever.
---
Go to Date button
This small addition makes such a difference it deserves its own headline. View any client's history, then simply click the small button in the corner and be taken straight to that date on the calendar.
---
Improved SMS reliability
We've worked long and hard to improve behind the scenes of how SMS are sent and incoming replies are processed. The system will intelligently handle a range of replies to appointment reminders where it may have failed to do so in the past.
---
Bug Fixes & General Improvements
There are just too many fixes and improvements to mention. The rebook screen has been overhauled. Our servers have been supercharged. Transaction Histories are cleaner and more readable. SMS systems have been re-written. Marketing tools have been tweaked. Nearly every part of Client Diary has been improved.
---
As usual, we have you to thank. Your feedback helps Client Diary to grow in the correct direction and we value it greatly. So please keep adding your feature requests.
We hope 2021 brings you many exciting adventures in business and in life and we look forward to joining the ride with you.
Regards,
The Client Diary Team