You know what your business needs to turn over each week to break even and then start profiting.  Client Diary now lets you view your projected booking value. Plan your week with the exact info you need with the click of your mouse.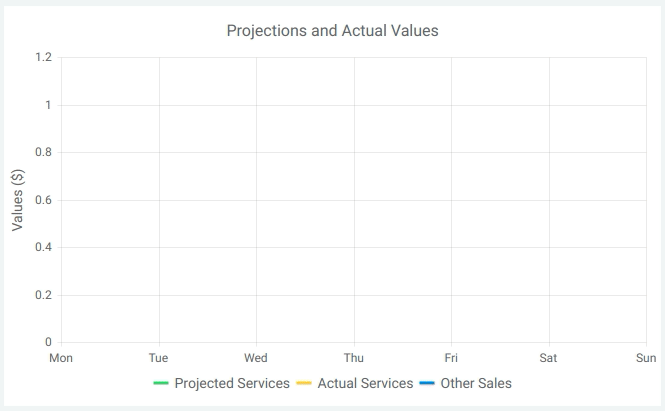 Client Diary looks at your future bookings to determine how much money you are going to earn in the week. This is your Projected Services.

As the week progresses keep an eye on your actual income VS your projected income. This is your Actual Services and this will update as you process sales in Client Diary.

As well as services you can keep track of income like Surcharges, Products, Gift Vouchers and more. It all counts as income but is handy to separate. This is your Other Sales.
Work with your Team
Look at your business as a whole by viewing everyone's projections combined. Alternatively review specific people to help them identify where they can improve their performance.

Multi location ready
If you have more than one location this tool will be a dream come true. Look at all your sites combined projected income in one click or focus on individual locations to identify areas of improvement.

Client Diary has become one of the most powerful yet affordable solutions available. Additions like the Projected Income tool are added regularly as a result of directly talking with our customers.   We trust you enjoy this new feature as it helps you plan your business each week.
Already an existing Client Diary user?  Click here to learn how to use this powerful tool.