More kickin' updates to Client Diary!
Client Diary continues to pump out the updates. Another round of small but powerful tools you can access to help your business.
---
Dashboard charts updated
Head to the dashboard and you'll see the charts and graphs are updated.
They're now clearer, easier to read and the targets in particular have improved readability and more information.
At a glance reporting helps you stay informed clearly to to make decisions easier.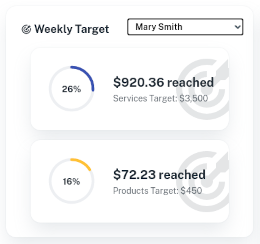 ---
All employee week view
Access all your team's week view at the same time, providing a clearer understanding of bookings when looking at the bigger picture.
---
Recurring bookings improvement
We're upped the level of recurring bookings due to popular demand.
For example you can now say something like "Book this service every 6 weeks for 50 occurrences".
This dramatically increases your ability to book into the distant future, years ahead.
---
Security improvements to hide phone and address info.
Client Diary always shows the phone number and if available will show the address of the client also.
You can now toggle these off independently, so this private information is hidden from users that don't need to see it.
Privacy and security are at the forefront of Client Diary's design decisions, helping you keep your and your client's data safe.
---
Online Bookings icon & tooltip
Easily see which of the bookings in the calendar are booked manually VS booked by your clients via online bookings.
---
Client Diary is Australia and New Zealand's standout Booking and Business Management software. 2021 had us grow almost entirely from word of mouth and at our fastest growth ever. We're experiencing growth in the UK, Canada and the United States. Why not join the community in 2022 and find out why Client Diary is so popular and what everyone is talking about.
Grab yourself a whole month free trial to check it out first, there is little risk and a lot to gain.
Feel free to reply to this email or visit us to sign up and have a look about.
Kind regards,
The Team at Client Diary!