Client Diary has matured incredibly over the last few years with new features fine tuning the day to day use. Below are some of the new tools & improvements you have access to when using Client Diary.
---
Income Projection Improvement
The income projection graph now includes "classes" and separates appointments in the waitlist from the total projection.
This results in a more realistic income projection for those that take classes and use the waitlist.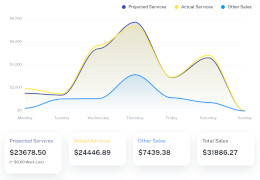 ---
Two new reports
You know when a new report comes along it's got to have been requested heavily. Such is the case with these two new additions:
– Client Account Balance Report
You can now view a list of all clients with account balances and what the balance is.
– Client Loyalty Points Report
This report allows you to view a list of all clients who have loyalty points and what their loyalty point balance is.
---
Security permission – price change
Sometimes a business will need to restrict changing of price at Point of Sale.
Client Diary now allows you to toggle this on or off for the different security groups, allowing you to focus on which team members can change price and which ones can't.
---
Set your icon for child accounts
This is a super cute but very useful tool for those that use child accounts.
If you're in hair / beauty, a pet groomer, a mechanic, perform yard maintenance or more there is an icon to suit.
From pet paws, to vehicles, humans and houses, there is an icon for "children" to fit your industry. Or, if you have a sense of humor or even hate the world, there's even an alien icon just for you.
This allows you to view the client list and instantly know which is a parent VS which is a child. Super handy!
---
Custom client fields when booking
If you use the Parent/Child relationship system in Client Diary AND you use Custom Client Fields you will see vastly improved ability to add and update custom information on the child account when booking an appointment.
Select the parent first, then the child from the list of children. Below will be the child's custom fields, allowing you to add / edit information on the selected child.
This is a major workflow improvement for those using child accounts when booking.
---
There is nothing quite like Client Diary.
Take it for a spin, see what you think and get in touch if you'd like to learn more. We import data from other software every day (and don't charge to do so). There's a good chance we can import your data also. Let us know what you're using and we'll let you know what we can transfer.
Best Regards,
The Team at Client Diary