Client Diary allows you to use modern tagging to draw a client's attention to services you want them to focus on. For example you may have a Valentine's special, or a deal on certain services you want your clients to see clearly. Tags allow for this.
Creating Service Tags
Head to the Services Menu
Select Service Tags in the Advanced Tools area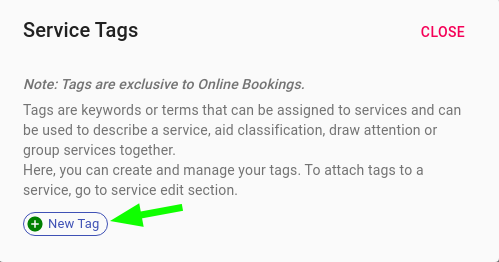 Here you can enter your information and choose colours.
Give the tag a name
Select a colour for the tag
Adjust the font colour to make it readable against your chosen background
Press the Submit button
TIP: If you want to use Emojis, head to https://unicode.org/emoji/charts/full-emoji-list.html and simply select, copy and paste the emoji/s you wish into the Name for your tag.
TIP: You can repeat this process to add as many tags as you wish. Below shows 2 x tags created and ready to use.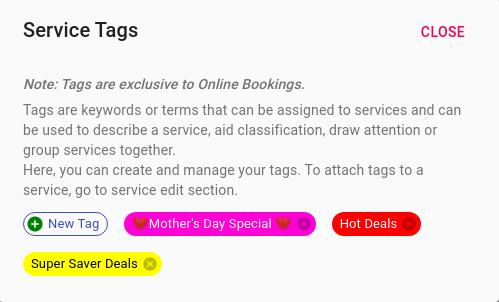 Assigning Service Tags to a Service
Once you have a tag created, you can assign it to a service. To do this simply:
Head to the Services Menu
Select the service you wish to assign the tag to
Press the + Assign tag button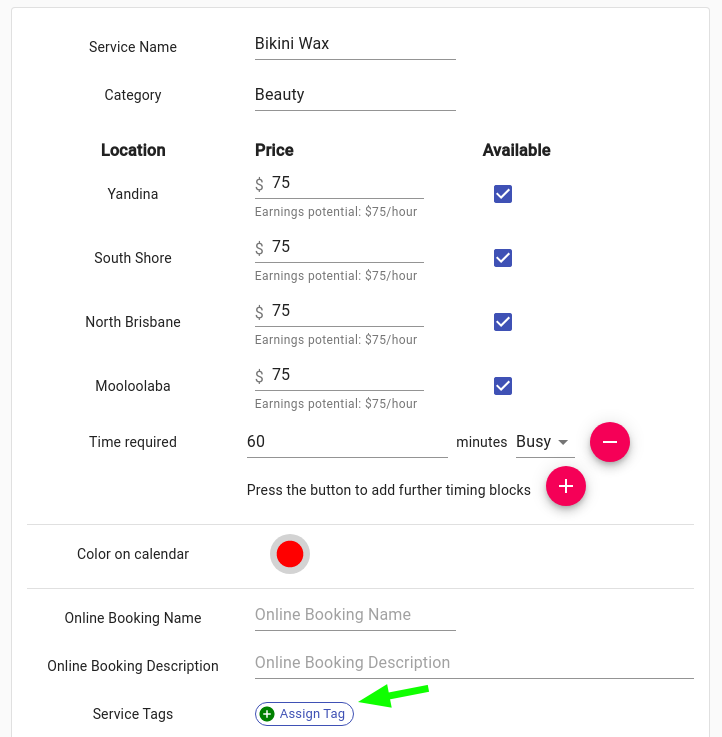 Choose the tag you wish to assign (you can choose more than one)
Press the Save Button
You will then see the tag next to the Service Tags heading in the service settings as shown below.

Using the Service Tags during Online Booking
When a client makes a booking, if there are service tags, they will be shown at the top of the screen. Below shows an example: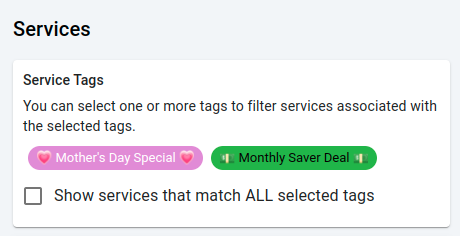 The customer can toggle the tags to show either all services, or just the service/s that the tag is assigned to. This is shown in the video below: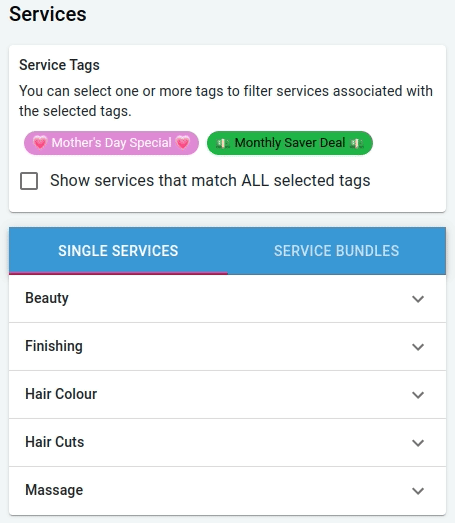 The toggle with the description "Show services that match ALL selected tags" allows the customer to show more services when they select more than one tag. That way they could for example show services with a tag of "Holiday Specials" AND "Men's Indulgence Services".