In a busy environment, little shortcuts can make it a bit easier. When checking out in POS you can hold a transaction so you can restore it later. This allows you to change price, add products and services and prepare the sale in advance of the client making payment and can speed up checkout times with the client.
More than one device?
If you have multiple devices you can prep a bill anywhere on another device and finalise it at the front counter. This is a great way to save time at reception by having the bill prepared in advance so the client can simply pay as they leave without waiting.
To hold on one computer and restore on another (switch to another computer to continue the sale), simply:
Press the HOLD button on one device
Then when needed press the RESTORE button on the other device
Continue the Transaction there.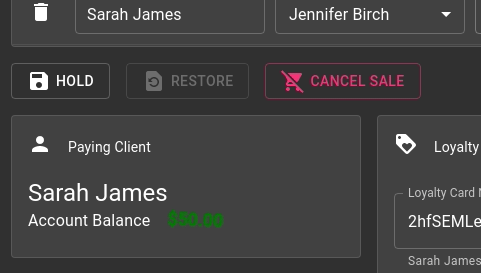 Q: I have a saved transaction that hasn't gone away
If you have a transaction held that doesn't need to be there anymore simply:
Restore the transaction so it's visible in POS.
Press the Cancel Sale button to remove the sale.