Client Diary allows you to have a set of pre-defined vouchers setup and ready to use. This allows you to quickly select them at the Point of Sale and it also allows you to sell Online Vouchers that fit your exact requirements.
How to open the Preset Vouchers Manager
Select the My Account menu
Press the Add-Ons tab
Choose the Preset Vouchers Manager option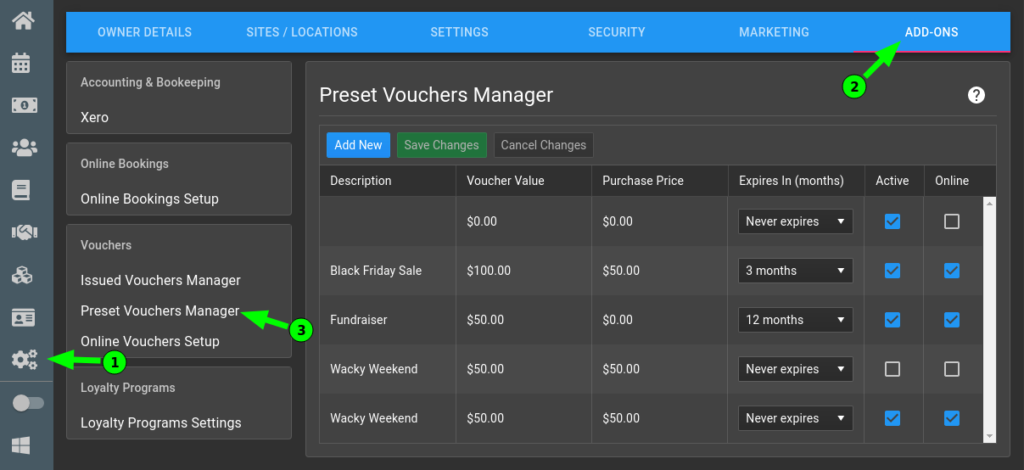 What the voucher's setup terms mean
Description – This is what a client sees when purchasing online. It also is what the staff see when selling a voucher in store.
Voucher Value – This is how much the voucher is worth when redeeming. The actual cash value to the customer.
Purchase Price – This is what the customer pays for the voucher. It's usually the same as the Voucher Value but if you're doing a special where a client pays say $50 and receives $100 in value then you'd put the purchase price as $50 and the Voucher Value at $100.
Expires in (months) – How long from the date of purchase until the voucher expires. Leave blank or choose Never Expires if you don't want an expiry date.
Active – This means the voucher can be purchased. If you don't wish the voucher to be purchased anymore un tick this option.
Online – Can the voucher be purchased online by clients. Tick this if you wish them to be able to. If not ticked, they won't see the voucher in their list to choose from.
How to Add a new Preset Voucher
Select the Add New button
Enter the Voucher Description
Enter the Voucher Value (what the voucher is worth when redeeming)
Enter the Purchase Price (what the customer pays for this voucher)
If you have an expiry date enter how long the voucher lasts in the Expires In dropdown
Tick the voucher as Active in the Active check box
If you want this voucher to be available to purchase Online via Client Diary's Online Voucher feature, tick the Online check box
Press the Save button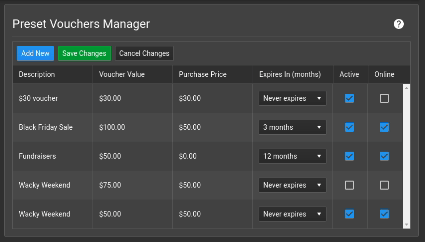 How to Remove an existing Preset Voucher
Untick the Active check box next to the voucher
Press the Save Changes button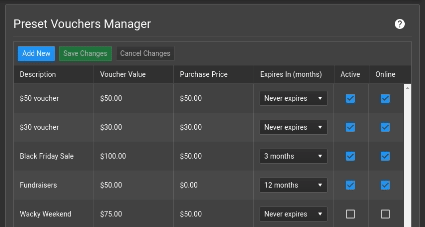 NOTE: If a voucher is not active, it can no longer be sold via the Online Vouchers tool even if the Online check box is still ticked.
How to Edit an existing Preset Voucher
Simply click into any area you wish to edit on the voucher
Change that value to what is now required
Repeat as required for any other aspects of the voucher
Press the Save Changes button