Performing a stock take in Client Diary is fast and easy. It allows you to ensure the stock you have in your business exactly matches what's inside Client Diary. That way when you place orders or run reports, the information Client Diary has is accurate.
To do a stock take in Client Diary:
Select the Products menu
Press the Stock Tools tab
Click on Stock take on the left menu
Choose which business location you wish to do a stock take on.
Click on Start Stock take button.

Then the stock take form will appear
Click on tick box which product you want to or don't want to be included in your stock take.
Click on the Next button
Now it will have in a list Brand Name, Line Name, Product Name, Usage/Retail, Expected Stock Amount and Real Stock Amount.
In the Real Stock Amount just click on it and enter the real stock valve for that product.
Click on Next
Then it will summarise what you have enter in the stock take and list on bottom of the stock take
How To print out The Stock Take Form
Although designed to enter your stock via an iPad or other tablet, you can still print the stock form to enter via pen/paper if you wish.
In step 2, select the Export PDF button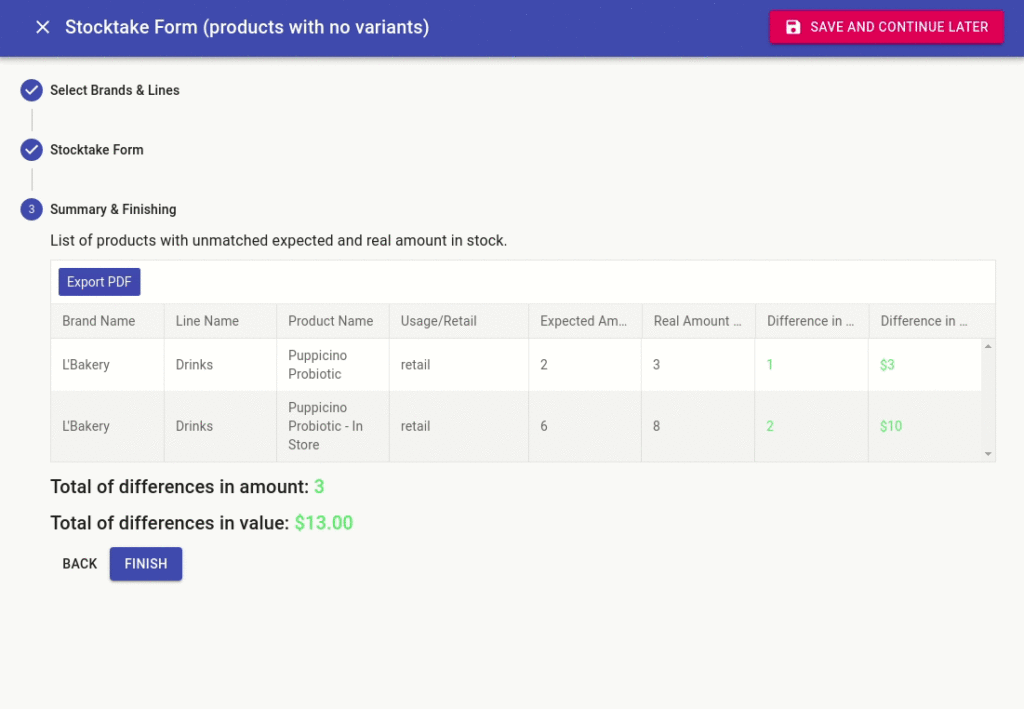 Total of differences in amount and Total of differences in value
Click on Finish to Finalize the stock take
NOTE: the Expected Stock Amount is the what the system thinks you should have on hand based on what you've sold recently or what you've used in the Stock Usage tool. You do need to have your "level set" value applied to your products for stock take to work properly. On how to do this just Click Here
How To View Previous Stock takes
Select Products on the left menu
Click on the Stock Tools tab
Click on Stocktake on the left menu
Under History click on the View button