How To Link Mailchimp To Client Diary
Client Diary allows you to easily connect to Mailchimp so you can effortlessly make beautiful newsletters and emails and send them to your clients.
You will need to create a Mailchimp before linking to Client Diary.

Ensure your address details are correct

First of all, Mailchimp requires that you have a valid postal address setup in Client Diary.  First step is to ensure you have this done.
Click on My Account
Check over your address settings and ensure they're correct as shown in the image below
Link your account to Mailchimp
Click on My Account
Select the Marketing tab
Click on Email Marketing
Click on Connect Mailchimp Account
Link Client Diary by login in using your Mailchimp login details.
That's it. Now it's done, every time you add a client it will be added to mailchimp. When you update client details they will also update in mailchimp.
IMPORTANT INFO. PLEASE READ:
Recent mailchimp changes with the free mailchimp account indicate you are only allowed to import one audience group into mailchimp.  When you link Client Diary to mailchimp, Client Diary automatically creates an audience group in your Mail chimp.  If there is already an existing audience group in your mailchimp account, Client Diary won't link to your Mail chimp.  In order to solve this you will need to delete the existing audience group for Client Diary to be able to link to your Mailchimp.  To do this
Log in to your Mailchimp account
Click on the Audience Tab
Select Manage Audience and click on View Audiences
Click on the select box next to audience name and click on Delete
If you have used the audience you want to delete in a recent campaign you will need to wait 7 days until mailchimp will allow you to delete that audience.
Checking the connection is successful in Client Diary
In the mailchimp setup area of Client Diary  Congratulations! You have linked Clientdiary to Mailchimp account as show in the screenshot below.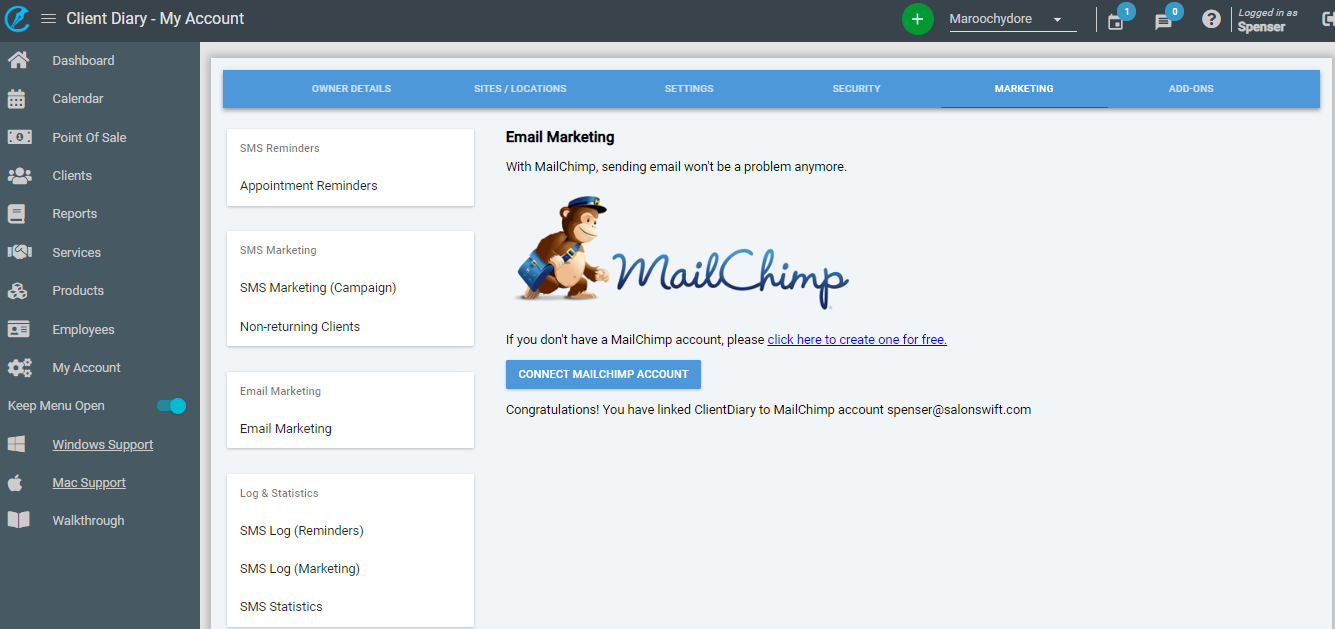 Checking the connection is successful in Mail Chimp
When It has successfully link Client Diary with Mailchimp it will import your Client Diary Clients into your Mailchimp lists.
These steps will show you where to find your Client Diary clients in Mailchimp.
Go to
www.mailchimp.com
Log in with your mailchimp username and password
On your Mailchimp homepage click on Lists on the top bar
In Lists click on Clientdiary Clients
Then it will display all the Client Diary clients that have been imported over into your Mailchimp
How To Create Emails Using Mailchimp
Here are some support links on how to do some email marketing in mailchimp
https://mailchimp.com/help/create-a-regular-email-campaign/
https://mailchimp.com/email-design-guide/
Note- You will need to be logged into your Mailchimp account to view these links listed above.