Client Diary lets your customers purchase Gift Vouchers via your Facebook or website allowing your business to generate income 24 hours a day. This document takes you through the process.
First ensure you have the Online Voucher system setup and running. Follow this document if you have not done so yet.
IMPORTANT NOTE: If you already have online booking setup and linked to facebook you don't need to proceed. A link to purchase gift vouchers will appear in your online booking screen at the very top if you have this in place. You can however choose to read below if you'd like another link added separately.
Head to My Account menu
Choose the Add-Ons tab
Press the Online Vouchers Setup option

We want to copy the link that we will place in the Facebook button.
Select the COPY LINK button or select the Online Voucher URL with your mouse and copy.

Head to your Facebook page
Click on the default button that Facebook provides. It's often called "Contact Us".

NOTE: You have to be the account holder for this to work. It should take you to an edit screen as shown further down. If not, log in to Facebook again with the account holder's email address and password and try again.
Choose the option titled Shop with you or make a donation.
Select the Shop Now option.
Press the Next button.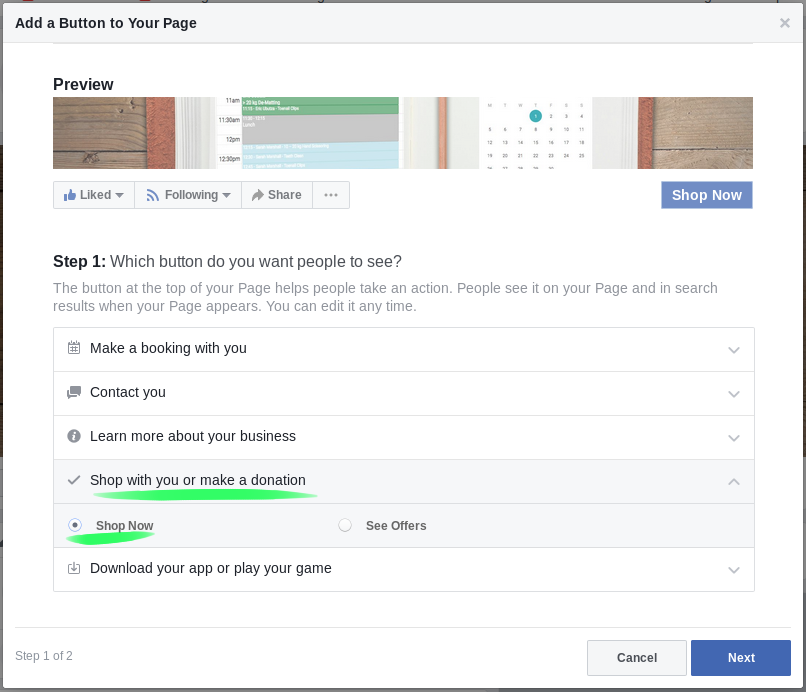 Select the option titled Website Link
Paste the link you copied from within Client Diary into the input that appears.
Press the Save button
Press the Finish button

Your Online Vouchers are now setup and your customers can click the Shop Now button on your Facebook page.
How to link your Online Vouchers to your Website
Simply copy the link you from original steps of this tutorial
Then email the link to your web designer so they can attach it to a button on your website. It's a very quick and easy job and will usually take them no longer than 3-4 minutes.
For further info on Online Vouchers please visit the Online Voucher Overview.