The Top Selling Services Report is useful for a range of purposes.
Often this report is used for employee performance reviews, when wanting to see what services an employee is performing more of and less of and to see if you can help them improve in weaker areas.
To access the report:
Select Reports in the left menu
Select Top Selling Services

How to Select A date Range In The Report
To do this go to either selecting
Quick Date: is option to let you select a quick date in that drop down menu
Month: is option to let you select a whole certain month
Start Date / End Date: option to manually select what date range you want to be viewed in the report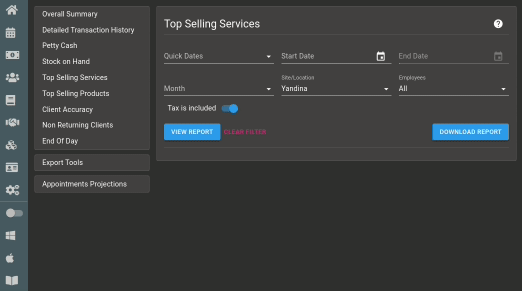 How To sort The Info In The Report
It's helpful to sort the report by different columns (quantity sold, total sales volume, category, etc). In order to do this choose:
Select the Sort By drop down under View Report
Select a preferred sort method.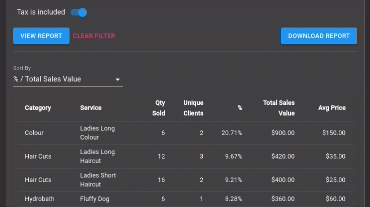 How To View the report By Employee
Select the date range to view
Under Employees drop down select what employee you only want to show in the report
Select the View Report button