This dashboard tool allows you to compare the total rostered time for a team member VS their productive time working. In other words, how much time are they working with clients VS how much time are they not.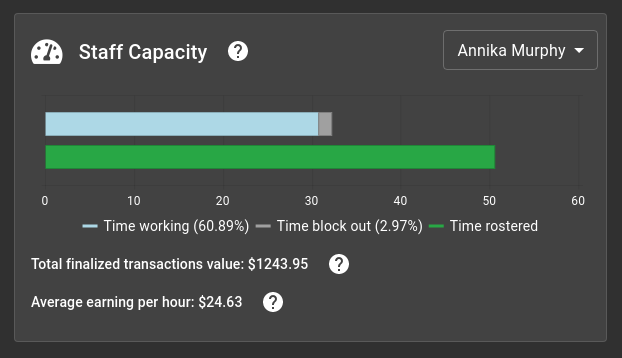 Hours are based on this week's roster and booked appointments on the calendar.
The staff hours are based off of the default roster but when a recurring roster or custom roster is made this value will also incorporate these custom hours. For help setting up a custom roster have a look at this help document.
Total Finalised Transactions
This includes only service and product sales, excluding deposits taken, voucher sales and surcharges.
This will equal the sum of services and products in the sales section of Overall Summary Report
Average Earnings per Hour
The average earnings is calculated by the total finalised transactions so far for the week by the team member being split amongst the hours the individual is rostered to work.
This means that this will increase as the week continues and more sales have been put through by the team member.
For example, if I started work on a Monday morning and have only completed 1 transaction, my average will be low as the rest of my week's bookings are not yet finalised. As the week progresses and I continue to complete transactions, my average against my bookings will rise.
For more information on the Dashboard items, please see our Dashboard Overview.