Here are the most recent updates we've been working on. Some are super cool and some are just plain handy. We hope you enjoy them either way.
---
Emojis in SMS
Emoji. Emoticon. Smilies. Whatever you call them, they're now in Client Diary. Adding a smile 😀 or some other emoji 😻 is as normal as adding a full stop in today's world 🗺️. There's now a super simple way to do this in Client Diary! 🙌 Just click the emoji icon next to the send button.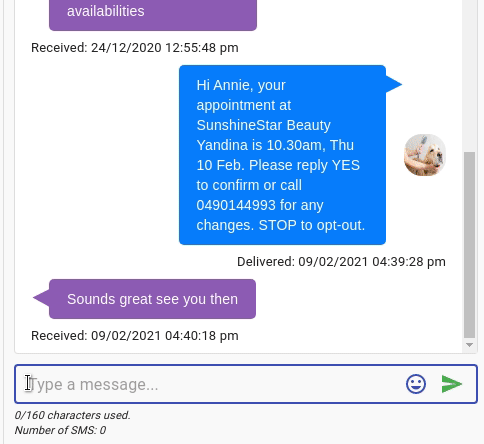 ---
Showing Cancelled Block Outs
A block out may be cancelled accidentally and you would like to see the team member who had it or what date/time it was for. When viewing cancelled appointments you will now see any cancelled Block Outs.
---
Online Booking with One Site
When a client goes to your Online Booking site and you only have one location, it will automatically select the location to make it easier and faster for your clients. In the past they still had to choose the single location and that was a little painful. It's much easier to use now.
---
Dashboard Locations
The new dashboard shows you whats happening in your business at a glance. When first viewed all locations are listed together. Now by selecting specific locations, only that locations information will be viewable.
---
Online Booking Time Out
Sometimes a client will search for a time with Online Booking and whilst they consider if that time is for them or not, you make a booking in the business. This makes a duplicate booking. The Online Booking now has a timer to guarantee clients must book within a certain time, greatly reducing the risk of this happening.
---
We have to say thank you to all our users as these latest features were requested by you. Please keep them coming. These feature request and feedback help us make the software the best it can be.
Regards,
The Team @ Client Diary