We have some BIG announcements coming but for now, here's some cool new things in Client Diary that make working day to day faster and easier.
Client Account Visibility
Client has an account credit and **it was missed**? Not anymore. We've made sure it's super easy to see when your client has credits (or debits).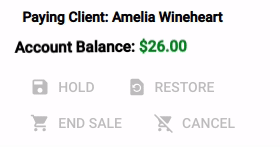 Interface improvements
Our user interface was already ultra modern but we've made it even cleaner, easier and fresher! Check out the **new search tools** as an example that will help make life easier. Every aspect of Client Diary has had a polish and an update. We hope you love the new, updated look.
Calendar logging improvements
**Someone moved an appointment** and you want to know who? Well now you know. It's shown right there in the calendar. Any edits done to an appointment are logged and can easily be viewed.
Reporting improvements
We've **updated reporting** to help identify unique clients better. If you view the Top Selling Services report for example, your total unique clients is more realistic for real world use.
Calendar View is now 'sticky'
If you switch to Day view or Week view **Client Diary now remembers** that view. Very handy for those who have a single employee but still wish to view the day view rather than the default week view.
As you can see we're working hard to make Client Diary the best booking system bar none.  Keep sending in your feedback. We listen and it inspires us to keep making better tools.