We are proud of bringing the newest updates to Client Diary. With new changes helping to improve efficiency and ease of use. They are sure to help at your business.
---
Hide Non-Rostered Staff from the Calendar
Having high team member numbers in the calendar can make it harder to read. Now, having an option to hide team members that aren't rostered helps make the calendar easier read and faster to book in your clients.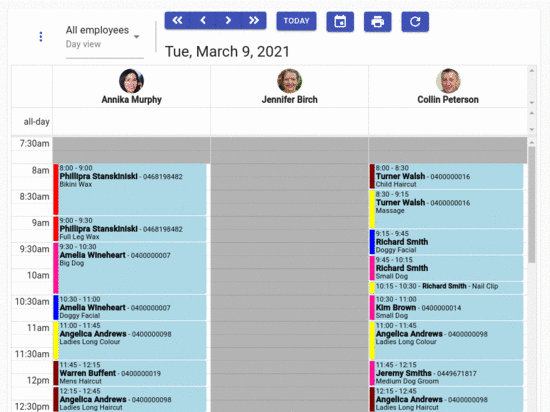 ---
Waiting List Improved
Printing the days appointments is an easy way to keep ahead and know what to expect. Its now easier to plan ahead, with any notes in the client's appointments appearing in the printed copy.
---
Appointment Notes when Printing the Calendar
Printing the days appointments are an easy way to keep ahead and know what to expect. Its now easier to plan ahead with any notes about the client's appointments will now appear when printing out the appointments.
---
Client Editing Mode
When in the Client Menu there is now a clear and distinct method to identify when editing a client or creating a new client. With the press of the toggle, you can quickly switch from editing a client to adding a new one, with out the need to reload the client menu.
---
Client Diary Walkthrough
To help the initial setup of Client Diary or to guide new team members, walkthroughs have been created. These show different pages and guided steps that introduce you to the different aspects of Client Diary and what it can do.
---
Client Search Optimisation
To help keep Client Diary fast and responsive we have changed the logic behind how the system searches for clients. The improved search will return names faster and even allow for typos or 'almost' spelt correctly names.
---
We trust you love these new features and are confident they'll help your business
As Client Diary continues to grow to be the top choice of booking / management software on the market, we have to thank you for your feedback. From your feature requests and suggestions we continue to build Client Diary in the direction you require.
Regards,
The Team @ Client Diary