We've decided we want to do two things.
1) We want to help ensure you're using Client Diary to it's potential and 2) we want to ensure you get rewarded when you tell your friends about us.
Get free SMS credits
Head to the Dashboard.
You'll see a section called "Achievements".
Click that and earn free SMS.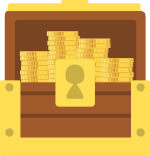 All you need do is simply start using the software, filling in any missing details that you're told about to help you use the software to its potential. We'll reward you with free SMS when you do so!
We grow almost entirely by word of mouth. It's all due to you telling friends and them signing up. Well, we want to say thanks and reward you.
Simply share a link to your friends. When they sign up you get a free month. Not bad!
You can collect as many free months as you wish. Share the link on your facebook group/s and clock up many free months as each person uses your link.
Get free months when you refer
Head to the new Achievements area in the Dashboard.
Click on the View my Referral Code button to get going.
Take me to the achievements page
We hope you enjoy getting some free gear! We really want you to use the software to its fullest. That's why we're giving free SMS. We want to say thanks for telling others about us. That's why we are giving you free months. If you need any help just let us know, otherwise check out the new Achievements area in the dashboard and have fun getting your free stuff!
Kind regards,
Robert & the Team @ Client Diary