We've added three new, key features to the Online Booking system. They will help you communicate your services clearer, draw attention to specific services you're offering and help clients choose staff easier.
Add Employee Profile Photos
You can add a photograph for each employee so that a client can recognise them and book.
Imagine someone enjoyed getting their hair done with "the gentleman with dark hair and a big smile" but can't remember his name. The photo will help them to choose the right person.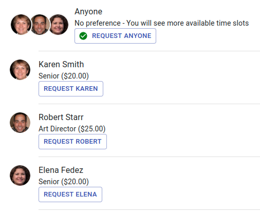 ---
Add Service Tags
Possibly the most useful of all the new features is the flexible and powerful tagging system.
The tags are designed to draw the client to services you want them to see.
Are you having a special or promoting a deal? Tagging allows you to bring those services to the front of the booking system with custom colours and emojis to really draw the customer to them.
---
Add Service Descriptions
You can now add a description for your services to help clients understand the service better.
Clarify the service to reduce client mistakes and paint a marketing friendly picture of your services.
---
Client Diary continues pushing the frontier as the best price / performance software available.
We trust you love these new features and are confident they'll help your business
All the best,
The Client Diary Team